If you could choose just one universal style, what would it be?
You surely have been through a situation like that, trying to figure out which style is yours, right? On Ecole Brasil's website (2020), the Yin and Yang concept was revealed to represent women's personal style, in the 30's during which the author of the study described on the website, considered Yang woman to be strong, powerful and vigorous, whereas Yin woman would be delicate, sweet, gentle, affective and lovely. There have been other approaches throughout the years, however, this perspective about behavior and personality has been kept and enhanced.
Next I will list 7 universal styles for you to have inspirations and identify which one of them has more to do with your personality.
1. Traditional
Generally, that is the most used style in formal work environments and conveys seriousness, attitude, security and credibility. Women who adopt this style value durable quality pieces, in tailoring and neutral colors. However, if you want to assuage a bit the stiffness of the look, you can include colors that provide a light point in the production or more sexy, romantic or sporty accessories.
2. Sporty
If you adopt this style, you're very likely to be keen on jeans, T-Shirts and aren't very fond of wearing high heels, right? Sometimes, you seem to be more laid-back, creative and keen on comfort, however, you may tend to pass on an idea of being carefree with the way you dress. This way, on a special occasion when you feel like improving your look, go for a third piece like a blazer, a vest, or even some pumps, for instance, and then they will certainly upgrade your look.
3. Elegant
The elegant style is usually intrinsic to this woman who portrays refinement, sophistication and class. The most common features are the choices for good products, fabrics with good fit and noble, durable pieces and impeccable posture, thus bringing a set of actions that convey this elegance. Every once in a while it can be mistaken for the traditional style due to the sobriety of the looks, but the difference would be on the search for more current and modern pieces.

4. Romantic
Women who have this style, exude femininity and seem to be sweet and loving people. They commonly wear pieces with laces, ruffles, soft colors (candy colors), prints, dresses and so on. In order to demystify the fragility that this style imposes, we can associate something more dynamic and daring, such as items from the sporty or creative style, for instance.
5. Sexy
Women who have this style are fond of clothes that have plunging necklines, skirts / short dresses or pencil skirts / dresses, transparencies, animal prints, lace, slip dresses so on and so forth, and portray sensuality and self-confidence. The whole look is sensual, even the way of walking and occasionally, they might be extroverted people. In case the look is excessively sensual and your goal is to bring an air of elegance or creativity, I suggest investing in a piece like a blazer, a pair of tailoring pants, a cardigan or even a jacket with fashion information, for example.
6. Creative
This style has its own characteristics and a lot of attitude, in general, there is a mix of prints, trends, textures and colors. They are women who show a luxurious production and full of humps. So as to demonstrate more sobriety somewhere that requires more seriousness, you can harmonize the creative look with more casual pieces.

7. Dramatic or Modern
When we come across someone with a dramatic style, we may observe such an alternative way to appropriate fashion and they don't follow trends, actually they are the ones who set a trend. The most used color is black and with it you can make combinations with contrasting colors. Another detail is that they like unusual productions that leave the obvious aside.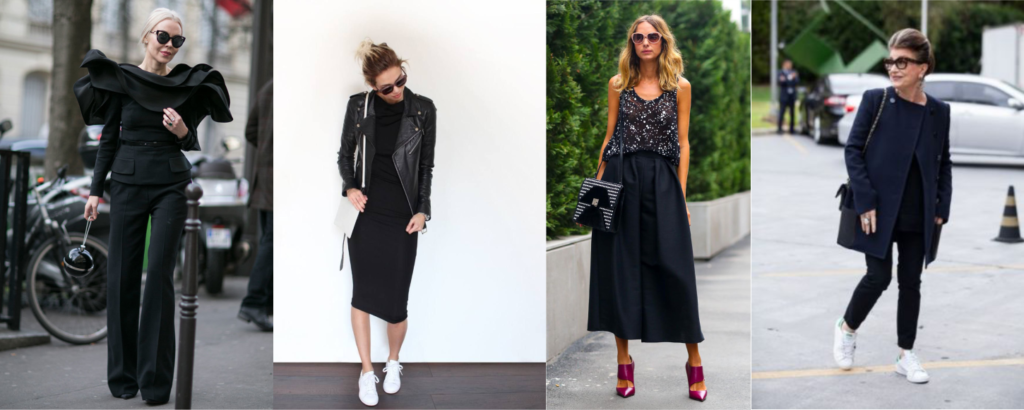 In an article published on Juliana Bacellar's website (2020), it was mentioned that we usually have 2 to 3 styles, however there is one that is predominant and even people who have no interest in the fashion world, have a style.
I myself identify with three styles, the traditional, the romantic and the sporty, and I try to mix the styles in a single look so as not to be over. After reading the 7 universal styles, have you identified yours or found out that you have more than one style?
 Bibliography
Ecole Brasil. Estilos Universais X 10 estilos de personalidades abordados pela Ecole. 21 de fevereiro de 2020. Disponível em: <Estilos Universais X 10 estilos de personalidades abordados pela Ecole (ecolebrasil.com)> Acesso em: 07 de dezembro de 2020.
Juliana Bacellar. O que são os 7 estilos universais e como descobrir o seu. Disponível em: <O que são os 7 estilos universais e como descobrir o seu | Juliana Bacellar – Personal Stylist em Curitiba> Acesso em 07 de dezembro de 2020.
*All images were withdrawn from Pinterest's website.